Gracie is the newest member of our family. Born on November 25th, we picked her up eight weeks later on January 15th in a small town east of Boise called Bliss, Idaho. She's part Blue Heeler, Kelpie and Australian shepherd. Cattle dog through and through. We got her for Christian to train into an avalanche rescue dog though, so we wanted a hard-working breed that was smart.
Luckily, we got just that with Gracie. We ran a basic aptitude test (Volhard puppy test) with all the puppies in the litter, and while Gracie only scored the second highest of the 8 dogs, she was much smaller than her brother who had scored the best. We wanted the smaller of the two, so Gracie it was!
We had two blissful "new puppy" days off at home with her and then Christian packed her up and put her in his Patrol vest and started taking her up the mountain to work every day. The little girl has adapted so well and now runs down the entirety of the mountain during sweeps (when they clear the mountain after closing) every day.
We've started doing basic hide-and-seek search training with her and our yard is the perfect place as it's covered in many feet of snow at the moment. Yesterday I grabbed my camera to document the process.
The first gallery of photos shows was our first exercise. Christian kept Gracie inside and out of view while I took a distinct route through our lot, dropping some kibble in my footprints and trying to leave traces of smells along the way before hiding behind our shipping container for her to track and find me. I found out later that I'd perhaps gone a bit too far away, but with some direction and coaching, she found me!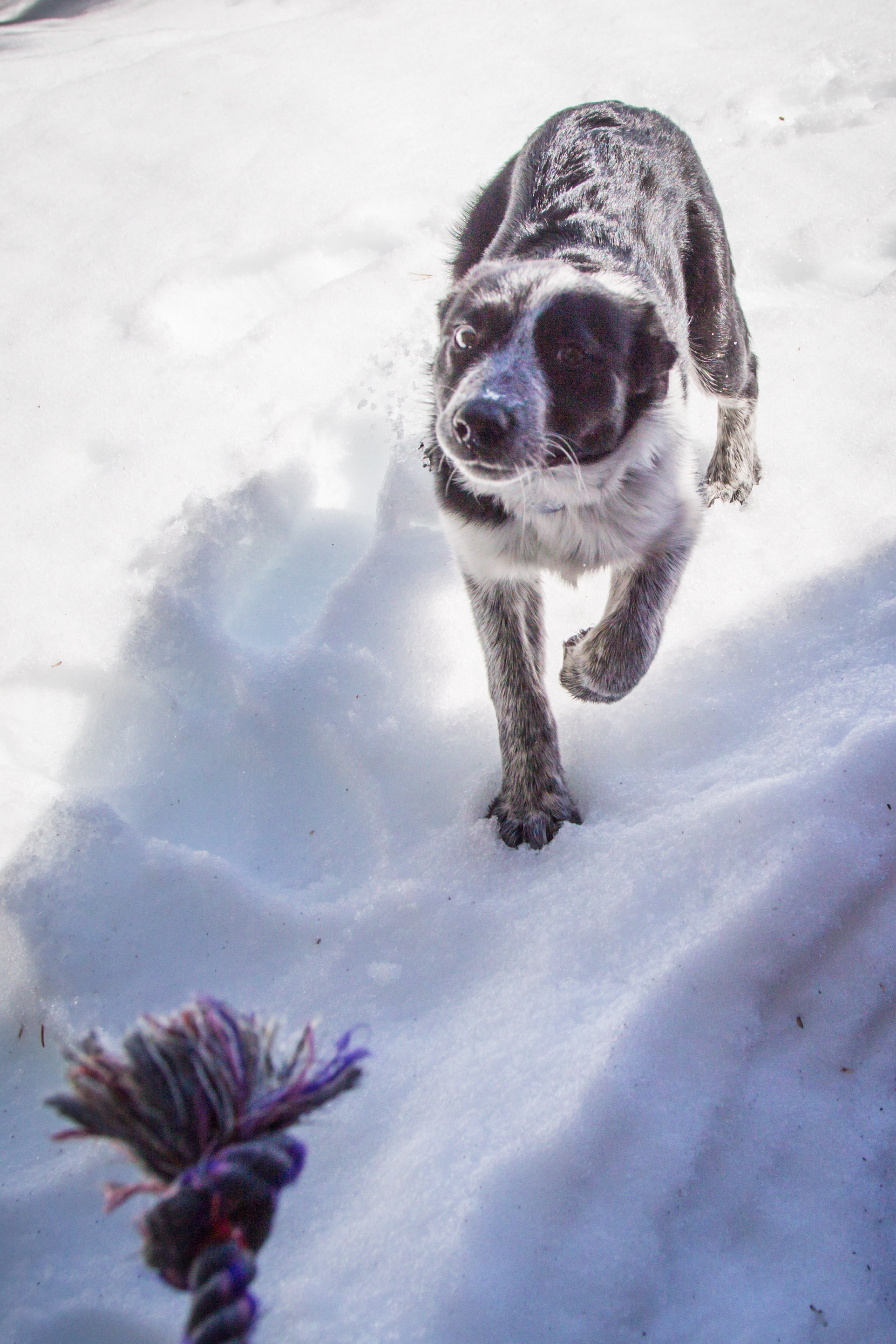 The second exercise was an attempt to get her excited about going to find myself or Christian. One of us would hold her back while the other very obviously called to her excitedly with her toy in hand and then ran off to a spot she couldn't see. Whoever was handling her would then make her sit and wait and then release her to find the other…who always had the toy ready and waiting as her reward or had placed the toy nearby for her to find.
The last exercise involved creating a small "snow debris field"…Christian used a shovel to disturb a 15x15 area of snow and then buried her toy in that area. Gracie then was released to search the area for her toy. She's still kept on a leash while she searches at this point because she's young and easily distracted. In the future she'll be off leash and able to roam a much larger area, but as she is being trained it's important to keep the areas small and her attention focused.
It's been a learning curve for the both of us as we work our way through training Gracie to fill her future role as an avalanche rescue dog. It gives us purpose in the way we raise her and it also gives her purpose, which is incredibly important given how high energy and smart she is. We've noticed that the more we challenge her with new tasks, the better behaved she is on a daily basis. Great motivation to keep at it!